Prove your expertise in 3D printing and stand out as a STEM education leader.
Advance your career with the competency to teach the 3D printing process and create 3D printing lesson plans. Becoming MakerBot Certified™ is a critical step for educators to validate their 3D printing expertise.
Who will benefit: New England STEM teachers, Vocational instructors, University Professionals alike.
WHY BECOME MAKERBOT CERTIFIED?
Fulfill mandatory PD credits*
Become a MakerBot 3D printing expert
Gain confidence as a STEM Education leader
Receive an official MakerBot Certified badge
Join the largest community of 3D Printing educators in the world
CERTIFICATION LEVELS – WHAT ARE YOUR EDUCATION GOALS?
Level One MakerBot Operator: Become a MakerBot 3D Printing Expert
Become a MakerBot 3D printing expert. Learn how to setup and manage your 3D printer, create your first prints, and troubleshoot common issues.
3D printing technology & history
Printer (setup and usage) and essential parts
MakerBot Print
Thingiverse & 3D Modeling
Basic troubleshooting
Level Two MakerBot Curriculum Creator: Become a STEM Education Leader
Establish yourself and gain confidence as a STEM education leader. Learn how to teach the 3D printing process and develop your own 3D printing lesson plans and projects.
Teach the 3D printing process
Manage multiple printers and print files
Troubleshoot student files
Utilize Thingiverse Education
Create a 3D printing project for students
Online or Blended Learning Workshops
Pick a Program That's Convenient for You: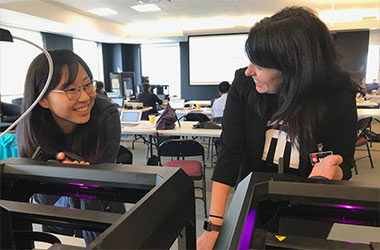 BLENDED WORKSHOP COURSE*
Complete preliminary work online through MakerBot University.
Attend an in-person workshop hosted by MakerBot.
Complete the mandatory assessments to earn certificate.
*Currently available in Brooklyn, NY on a sign-up basis. Ask an AET Labs Technology Advisor for details.
Stay Tuned! Local Blended Workshops For New England Instructors Coming Soon!
For More Information Contact an AET Labs Technology Expert at 888.768.4550 or info@aetlabs.com.
We can help you choose the certification program and package that's right for you, obtain grant funding opportunities, and answer questions.
The AET Labs Formula for Successful Education Labs:

Request More Info